1.Material:Hot-dipped galvanized wire, which is made of Q235 iron rod.
Anti-corrosion form: hot-dipped galvanized and electric galvanized.
2.Field fence diameter of all wires used:
Top / Bottom wire dia: 2.5mm-3.6mm. Line/stay wire dia.: 1.7mm-2.5mm
Zinc coating: 60-240g/m2 wire diameter:1.8-3.5mm
vertical spacing:15-60cm mesh height: below 2.4m
roll length: 25m-200m
3.Deer,cattle and animal field fence applications:field fence is a kind of mesh used in
cattle,goat,deer and pig.it is used for grassland,pastures,protection of ecological
projects,protecting grassland,forestry,highway,and environments.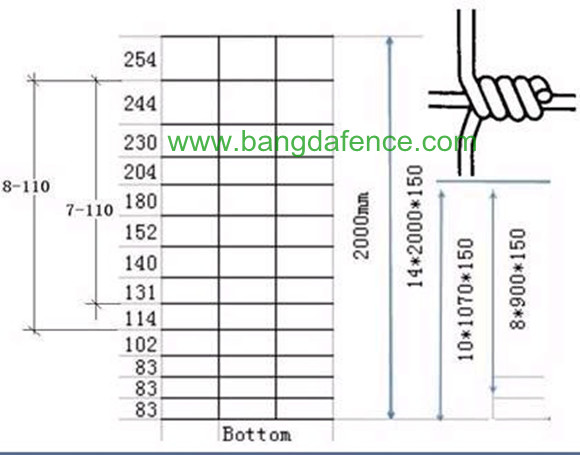 Specification mesh

Set and bottom wire Dia.
(mm)

In wire
Dia.
(mm)

Volume dia.(mm)

Type

Specification

1

7/150/813/50

102+114+127+140+152+178

2.5

2.0

270

2

8/150/813/50

89(75)+89+102+114+127+140+152

2.5

2.0

270

3

8/150/902/50

89+102+114+127+140+152+178

2.5

2.0

270

4

8/150/1016/50

102+114+127+140+152+178+203

2.5

2.0

270

5

8/150/1143/50

114+127+140+152+178+203+229

2.5

2.0

270

6

9/150/991/50

89(75)+89+102+114+127+140+152+178

2.5

2.0

270

7

9/150/1245/50

102+114+127+140+152+178+203+229

2.5

2.0

270

8

10/150/1194/50

89(75)+89+102+114+127+140+152+178+203

2.5

2.0

270

9

10/150/1334/50

89+102+114+127+140+152+178+203+229

2.5

2.0

270

10

11/150/1422/50

89(75)+89+102+114+127+140+152+178+203+229

2.5

2.0

270